According to the feeding characteristics of different aquatic animals, such as benthic animals such as river crabs, they are accustomed to looking for food at the bottom of the water, using a slower feeding method, so that the required feed pellets should not be too hard, too strong, and should be as salty as possible. Loss caused by fine debris during biting. From this point of view, the puffed feed is more suitable: the puffed and granulated feed is easy to absorb and soften, suitable for foraging, and can also reduce the loss of debris generated during foraging, reduce feed waste and water pollution. Moreover, the expanded feed has a long water resistance and a high degree of ripening.
Finish curing and extrusion molding the feed materials by the application of high temperature and high pressure.
The host machine is with frequency control to ensure the stability of the production process, and the final product can be varied according to production requirements.
We also manufacture and supply the floating fish feed pellet machine with small and large capacity for your choice.
Twin-screw wet extruders are commonly used to produce expanded feed. The matching material is sent to the conditioner through the conveying device, and the material is quenched and tempered by the high temperature steam in the conditioner, and the leaching tank enters the expanding mechanism, and is pumped by a pair of parallel meshing screws, from a certain shape of the die hole. Instantly cut and cut into pellets. There are many factors affecting the expansion of materials, but they are mainly related to the conditions of quenching and tempering, the operating conditions of the extruder and the material properties. Changing the extrusion conditions can control the uplift of the extruded feed.
Fish feed pellet machine can be divided into 2 types: small Dry type and Large wet type.
Wet type: The wet type fish
feed pellet machine
. It is equipped with a preparation device to ripen the feed raw materials, and is usually used for large-volume production of feed lines for use with boilers.it can produce neat and uniform beautiful ultra-small diameter particles, has good self-cleaning effect, no need to disassemble, good ripening degree, high water content, wide application range, can produce high oil, high moisture materials, mainly Used in aquatic feed, pet food and animal feed.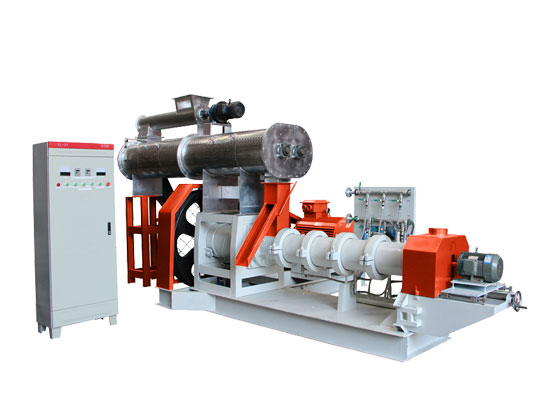 Dry type: The dry type fish feed pellet machine also called single-screw extruder. It is usually used for small-volume feed production, The single-screw extruder has a relatively stable work and strong shearing force, but it is easy to block the discharge hole. It needs to be manually disassembled and cleaned every time it is used. The heat distribution is uneven when the material is extruded, compared with the wet twin-screw extruder. The curing uniformity is poor, the moisture content is low, and the scope of application is limited. It is mainly used for processing raw materials, poultry and farmed feed.