Machine Details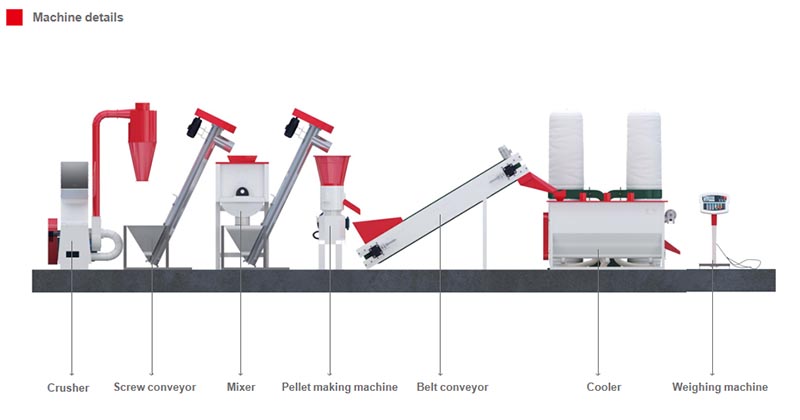 Complete Animal Feed pellet line include feed hammer mill, feed mixer, feed pellet making machine,cooling machine, Weighing machine. it can make all kinds of animal feed pellet. usually for poultry, cattle, cow, sheep, rabbit, etc.
Cursher-the hammer mill is an important equipment for the raw material grinding process. It is used for crushing grain, straw, hay, etc. It is used in poultry and livestock feed production lines.
While if you manage a large scale feedstuff pelletizing factory, the water drop hammer mill is an ideal choice.
Mixer-the U-type ribbon mixer is one of the necessary processing in animal feed pellet production line. It is used for mixing powder raw materials, high mixing coefficient, U-shaped design, and no residue, mostly used in feed production lines over 300 kg.
Pellet Making Machine-flat die feed pellet machine is the key feed equipment for the animal feed pellet line. It can make feed for chicken, cow/cattle, sheep/goat, pig, rabbit, etc. only need to change the feed formula and feed moulds. the feed is made through the machine's pressure rollers and grinding discs.
Cooler-the cooling system, getting out of the feed pellet machine, the feed pellets with high temperature and large moist need cooling by counterflow cooler. These feed pellets can be crushed, screened, or packed. Through the cooler, the feed pellets are decreased the temperature and moisture for the next processing.
Application

packing & shipping

customer visit